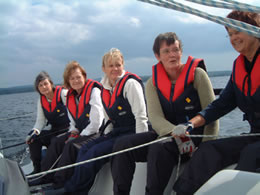 Ändra till Svenska>>
Join the Outdoor Events sailing school in Dalarna (Mora) or Stockholm (Hundudden), for adults and teenagers from 16 years. We use the Melges-24 boat which is a racing boat with with jib, main sail and gennaker. The boats are fast but easy to sail and sensitive like a dinghy, which is good for the learning process.
First available dates for English sailing lessons are  from June 6th 2020.
We arrange English courses at dates upon request. Minimum 3 participants per course during weekends. Please send us a mail with your desired dates if you want to be on a list for participating with others if you are alone. You are welcome to borrow sailing clothes + life jacket if you do not have your own equipment (included in the fee).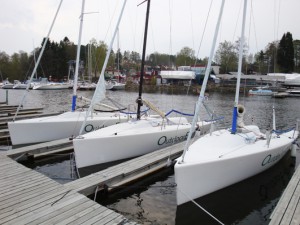 Price incl VAT per person:
SEK: 2.900: One day 8 hrs.
SEK 3.900: Two days 6+6 hrs.
Keel Boat Step-1
If you have very little sailing experience or none at all and want to learn the basics of sailing.
GOAL: Learn how to handle a keel boat by yourself in light weather conditions.
PRE-KNOWLEDGE: None
CONTENT:
Basic sailing words
Boat parts and equipment
Sailing in theory and practice
Rigging, hoisting & taking down the sails
Basic nautical rules in theory and practice.
Knots and the use of them.
Safety knowledge.
Keel Boat Step-2
If you want to learn more or get a repetition of what you once knew. Or if you earlier have sailed passively but want to be more sure of how to handle sailing boat.
GOAL: Feel safe in day-sailing in different kinds of weather.
PRE-KNOWLEDGE: Step-1 or similar or actively having sailed as crew.
CONTENT:
Repetition: Sailor words, parts and equipment
Repetition: Right-of-way (ROW) rules, sailing theory and practice
Sail trimming (basics)
Reading charts (studies in navigation should be added)
Communication on board
Berthing and leaving port
Seamanship
Conditions for All Sailing School Courses
A course can only be arranged if there are 3 – 8 persons participating per course. The course must be paid in advance after agreement of course date. Entries are binding when the course fee is paid and registered on our account.
The course fee shall be registered on our account no less than 15 days before start of the course, or minimum before the course date if agreed.
For deregistration 15 days or earlier before start of course 50% will be refund.
For deregistration 14 days or later before start no course fee will be refund.
The course ticket may be given to an other person.