Activities – Kick-off – MICE adventures – Customer Events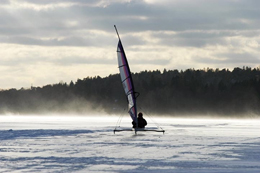 Outdoor Events offer attractive activities on the water both summer and winter seasons for conference groups etc. Our goal is to make each guest enjoy every second of the visit and bring a positive memory back home. No matter if it is a hot sunny day or rainy, winter and freezing cold. Our experienced staff, the right equipment and the unique environments will make this an event to remember and talk about for a long time.
We arrange activities for business groups usually for up to 40 pax but sometimes up to 100+ guests!
Experience and Safety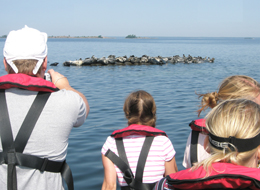 None of the activities requires experience even though we use unique and extreme crafts. Safety routines for each activity are of course top priority. You are always welcomed by our experienced coaches and able to change from conference to adventure in a moment. Appropriate clothes and equipment for the current weather conditions is available for you at each activity.
Activities:
RIB-c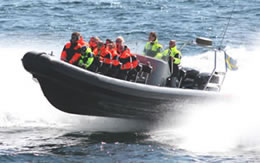 harter speed boat
Make a memorable high speed boat trip to a lunch restaurant or conference hotel. Get out to sea in an awesome, but extremely safe boat and experience the power of twin turbo engines.
Matchrace with Melges-24 or Trimaran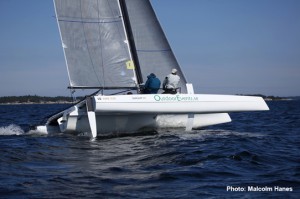 Trim the sails, take the right route and don't forget the communication on board. Practice cooperation while reaching the finish line ahead of the competitors. Another playground but teamwork training useful in the everyday life back at the office. More info >> 
Tour Sailin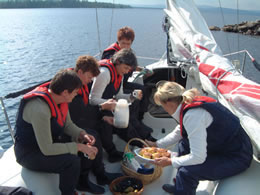 g in Trimaran or Monohull
The weather decides the pace. You decide the conversation topic. Learn a little bit more about sailing or just relax in a nice environment.
More info >> 
Ice Yacht Sailing
Exotic adventure especially for foreign guests that have never before set their foot on a frozen lake. Very rewarding experience. You learn how to sail the ice yacht in a few minutes. More info>>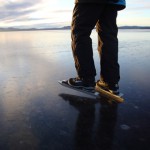 Skate Sailing
Nearly like flying on your own wings across the wide open spaces. TheKitewing is often used in combination with ice yachting. A bit more difficult, but suits the adventurous individual who would like to try a new sport. More info >> 
Swedish Tour Skating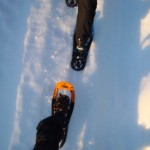 Nice open air activity that can be adapted to different levels of experience and knowledge of the group. Exciting also in darkness along a track lightened by torches. We can also do ice skating as an alternative to ice sailing. More info >>
Snow Shoe Walking
Adventurous or looking for fun in the wilderness of Sweden or in the back yard of the conference hotel. Try something new and easy to practice for all people! More info>>