Outdoor Events arrange exclusive summer and winter activities for business- or tourist groups.
Go on a ride with a RIB-speed boat, experience sailing with Melges-24 or trimaran sports boats, or try the exotic winter sports, ice sailing with  ice yachts or Kitewings. Enjoy the nature of Sweden on tour skates or snow shoe walking.
We arrange action sailing events close to any conference facility in the archipelago of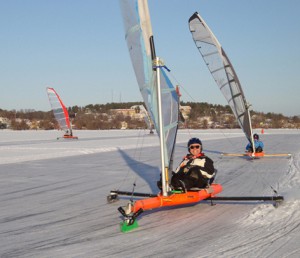 Stockholm, lake Mälaren or Lake Siljan in Dalarna. We may also tow the equipment and boats to any place in Scandinavia upon request. So please do not hesitate to contact us for a discussion! Sailing events for up to 100 participants!
Welcome to participate in group activities built on over 17 years of experience from demanding adventure clients!
Jonas Lindblom