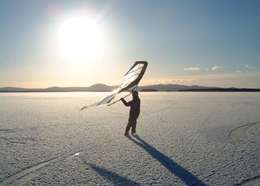 Skimbat Kitewing is similar to a windsurfing sail in its design. We use it as a traditional skate sail together with tour skates. But it is possible to use almost anything on your feet like snowboard or downhill skies. If you can skate and windsurf it is easy to learn.
We often use the Kitewing in combination with ice yacht events for those who wants to try something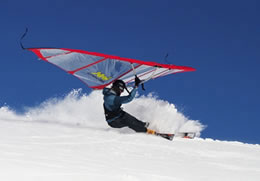 extra. Safety equipment and custom made skates with slalom ski boots are included as well as coaching, if you wish, from our guide Jenny, who today has gold medals from two years of world championships.
Arrangements in Stockholm or Dalarna.
Approx 20 persons in combination with ice yachting, snow shoe walking or tour skating.
Up to appr 5 pax as a course or separate Kitewing-activity.
Season: End of December – mid March.
Cost: Will be offered as course or activity depending on number of participants and arrangement.