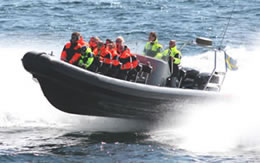 Make a memorable high speed trip in the archipelago of Stockholm, lake Mälaren or at the lakes of Dalarna, powered by twin 350 hp low emission sertified engines. Safety equipment and experienced personel onboard always included.
Suggested departures in Stockholm:
From Gamla Stan, the castle of Stockholm, Nacka Strand or Nybroviken etc. in central Stockholm. Go to a restaurant, view defense plants from the 17th century, bring a picnic or just enjoy the nature between the city and the coastline in only appr. one hour. The destinations (as well as departure places) are: Vaxholm, Sandhamn, Utö, Möja, Saltsjöbaden e.t.c acc to your desire. The RIBs are also available as charter tender boats for sail racing venues.
Cost: Please contact us for a quotation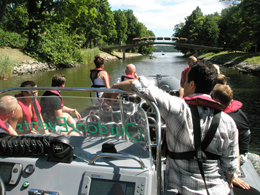 Basic pricing (Per 12-pax boat, SEK excl 6%VAT):
1hr: 9.000 /2hrs: 11.000 / 3hrs: 13.000.
Waiting hours: 1.500 + VAT/boat. (for dinner- time etc.). Pricing above valid at booking 30 days before the event day. +15% is added at booking less than 30 days before the event day.
Time required for common tours:
(Incl required time for getting dressed/undressed):
– Sthlm city – Sandhamn – Sthlm city: 3 hrs
– Sthlm city – Grinda – Sthlm city: 2 hrs
– Sthlm city – Vaxholm: 40 – 50 min
– Nacka Strand – Nybroviken (Sthlm city): Appr. 20 min (max speed 12 knots)
Conditions: Invoice will be sent by e-mail, payment due min 15 days before the event. Cancellation more than 30 days before the event: 100% refund. Cancellation 29-15 days before the event: 50% refund. Cancellation 14-0 days before the event: 0%Refund / 100% will be charged acc to invoice.
The RIBs are equipped with the latest navigational and safety equipment and environment certified engines. Goggles, safety vests and warm all-weather overalls are available for every passenger. Safety and good archipelago experience are our highest priority.
Approx 60 persons.  (Max 12 persons/boat).
Children up to 14 only together with parent.
Life vests from 40 kg, suits from size M available.
Season: April – December.